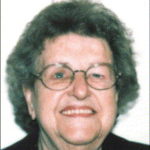 The beginnings of NAPS lie with the pioneering work of Dr Katharina Dalton. Originally trained as a chiropodist (her family did not have the means for her to study medicine), she later financed herself to become a doctor.  As a GP in North London, she was aware of women presenting with symptoms on a regular monthly basis and this, combined with experiencing PMS herself, provided the starting point for her to set up a PMS clinic in London, run an NHS PMS clinic in University Hospital London, undertake studies on PMS and champion the cause of women who were desperate to find a treatment for their condition. In the course of her career many thousands of PMS sufferers benefited directly from her treatment as patients, while countless others found help as a result of improved awareness of PMS – Dr Dalton's book 'Once a Month' (first published in 1978) rang immediate bells with sufferers and was sold in huge numbers.
In 1977 a TV programme 'Pull Yourself Together Woman' in which Dr Dalton appeared was watched by an estimated eleven million viewers. Clearly there were vast numbers of women who were looking for an answer to their PMS and this was going unaddressed.
In 1983 a number of Dr Dalton's patients felt very strongly that PMS sufferers should not have to endure their devastating symptoms unnecessarily and that it should be their right to access appropriate treatment. Working with Dr Dalton, it was decided to set up an organisation dedicated to achieving these objectives. An inaugural meeting was held in London in 1984 and officers for the new body were elected – and so NAPS came into being. At the helm in the beginning were Debbie Frith and Wendy Lloyd with administrative meetings being held in their homes. A grant from the pharmaceutical company Hoechst enabled NAPS to rent an office in Guildford and to produce a magazine.
NAPS set up a Helpline, self-help groups were established by volunteers across the UK, recognition was gained for PMS as a medical condition and PMS sufferers were for the first time prepared to share their stories through the media.
At this stage it would be true to say that treatment with natural progesterone combined with a dietary regime of regular ingestion of complex carbohydrate plus healthy eating was the NAPS recommendation for successful management of PMS.
In 1989 NAPS moved to Kent, initially to Sevenoaks, then to Seal and finally to East Peckham where it has been based for the past eleven years.
At the end of the 80s the first NAPS Study Day for Health Care Professionals took place at the Middlesex Hospital. There were two major Scientific Study Days organised in the mid 90s. At these, under the direction of Professor Norman Morris, the then Chairman of NAPS, leading figures in the field of Women's Health helped to put the Association and PMS squarely on the medical map.
In the early 90s different approaches to treatment were embraced as a result of widening interest and support from specialists in the field of PMS management. NAPS also built up a team of professional advisers to assist in the governance of The Association.
NAPS began to be invited to provide representatives to appear on Television and Radio. The first TV programme to feature PMS was 'This Morning', with Richard and Judy in Liverpool.  All publicity generated large numbers of postal enquiries and after one TV programme 10,000 letters were received in two weeks – any detailed enquiries, of which there were many, were sent a personal reply. No mean feat for an organisation that relied heavily on volunteer help to deliver its services.
In 1997 the Association was awarded a major lottery grant which enabled, NAPS for the first time to employ a Chief Executive Officer and embark on a major PR campaign to enable every woman to have ease of access to the information and support necessary for successful management of her PMS. NAPS was fortunate to have the advice from experienced professionals to utilise the funds well.
In the 2000s it was a necessity that NAPS enter the digital age. A website was designed, hard copy magazines were replaced by online bulletins and communication by email became the norm but not exclusively!  A helpline was no longer seen to be a vital tool by those seeking support and the preferred means of obtaining individual advice became the Ask the Experts service. Self–help groups also ceased to be a popular form of mutual support; an e-chat line starting in 2001 was the forerunner of the first NAPS Forum.
In 2010, NAPS was particularly proud, through an educational grant, of being able to send 'Guidelines on PMS and its Treatment' to all 10,237 medical practices and walk-in centres in the UK, providing all GPs with up-to-date information and advice on how to treat their PMS patients.
Study Days on Women's Health are now a regular part of the NAPS annual programme. Two are planned for each year, usually one in London and the other elsewhere in the UK. In the recent past, in addition to London, Study Days have taken place in Basingstoke, Cardiff, Canterbury and Southampton also between 2014 and 2019 NAPS worked in partnership with Events4Healthcare to organise a series of  'One Day Update in Gynaecology' conferences in Leeds, Nottingham, Castle Donnington, Birmingham, Derby and Manchester. NAPS also had a presence in a conference in Dublin in 2011– currently provision for PMS specialist treatment in the Republic is sorely lacking. The organisation of Study Days 'helps fulfil NAPS commitment' to improve awareness of PMS in the medical profession and the publicity for these events raises the profile of NAPS amongst Healthcare Professionals.
Since 2008, NAPS biggest challenge has been to survive financially in a world where not only have grants been more difficult to obtain but where our natural supporters, PMS sufferers, have been particularly vulnerable financially both in terms of employment security and pressures on the family budget. Currently, the administration is run entirely by volunteers and their dedication combined with that of the trustees has ensured that the work of NAPS continues.
For thirty years, NAPS has been the voice of the PMS sufferer and remains true to its original objectives. Yet the battle against PMS has yet to be won. There is still no 'cure' and too often sufferers find their GPs ill-informed and unsympathetic. PMS still does not feature in medical training and while there are many more PMS specialists than there were in 1984, there are still too few and some parts of the UK have no provision at all. Properly conducted research too needs to be properly funded.
NAPS has grown from a kitchen sink organisation to a small charity with a big heart and major ambitions. The history of the Association suggests that while the need to support PMS sufferers remains, NAPS will continue to fulfil its obligation to them with determination, compassion and understanding.